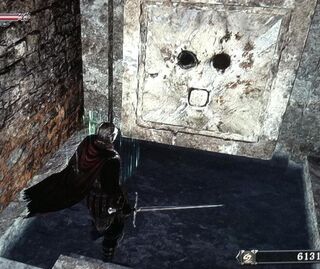 Waterlogged is a status effect in Dark Souls II.
It is contracted when standing in a Pharros' Contraption that fills an empty pool with healing water, or patches of water found in many areas of the game. The healing water slowly regenerates health as the player stands in it, and cures status effects like poison by allowing it to wash off. This effect also works like the Flash Sweat pyromancy, making the player far more resistant to fire attacks, at the cost of taking more lightning damage. The effect can also stack with Flash Sweat for even more fire defense.
In some areas of the game, this can occur automatically, such as traversing water itself, or during a rain storm. However, this will not regenerate the player's health, but instead only alter their elemental resistances. Care should be taken as to who or what the player is going to fight when the status effect is contracted.
Bonuses: Greatly increased fire resistance (+300), Pharros' contraptions restore health over time, and poisons/oil are washed away more quickly.
Penalties: Significantly decreased lightning resistance (-150).
Locations
Edit
Useful when running a "No Bonfire/No Deaths" game.
One's lightning defense will not get any lower than zero, even if they have less than 150 total lightning resistance. It will only go down to 0 should they have less than, or equal to, an amount of 150. However, this will cause players to take full damage from lightning-based attacks, as there is absolutely no damage reduction if one's resistances are zero.
Community content is available under
CC-BY-SA
unless otherwise noted.