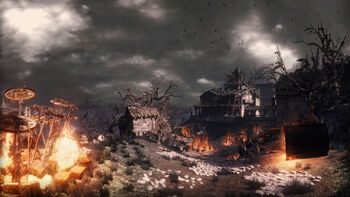 The Undead Settlement is a location in Dark Souls III.
A dilapidated township filled with crude buildings and rotting corpses. The Undead Settlement is a rather lengthy area filled with dangerous enemies. Although the resident Peasant Hollows are relatively easy to deal with, dispatching the Hollow Slaves will prove to be tricky, and the area introduces a new, dangerous enemy: the Evangelists.
The cemetery is under the watch of the giant archer, and traversing it will prove dangerous without a very specific Young White Branch.
Although the route to the adjacent Road of Sacrifices is straightforward, players can choose to explore the area more thoroughly if they seek to challenge the optional boss, the Curse-rotted Greatwood, participate in Siegward's questline, or meet new NPCs.
* If required conditions are met.
<reference/>
Community content is available under
CC-BY-SA
unless otherwise noted.