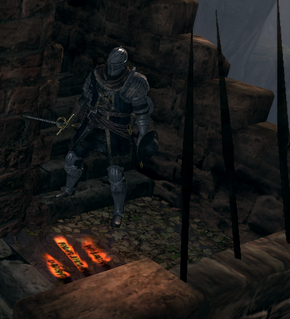 Undead Prince Ricard is a minor character in Dark Souls.
Prince Ricard is a hollowed enemy found towards the top of a tower in the latter half of Sen's Fortress, beyond the Berenike Knight.
Even though his armor implies that Ricard was probably from Astora.[1], he is likely from Balder, and a member of the royal family. Ricard had been journeying through different lands for a long time until he eventually ended up Hollowing in Lordran.[2]
Ricard wields his Rapier and Buckler for close-range combat and a Longbow for more distant targets. He can parry and riposte attacks. His attacks deal fairly low damage, giving a lot of room for error.
Character Information
Edit
Health and Souls
Edit
Health
Souls
NG
NG+
NG
NG+
719
1,315
4,000
12,000
Physical Defenses
Elemental Defenses
Resistances
285
280
314
285
202
218
179
C
C
B
These stats are sourced from FuturePress's Official Dark Souls Strategy Guide.
Equipment
Edit
- Since Ricard's Rapier says that he has "wandered the lands in a fateful ill-conceived journey ", and is praised for (unknown) exploits that are singed in monomyth, it is possible that Ricard left his kingdom to become an adventurer.
- Ricard could have been supposed to be the son of Undead King Jar-Eel, due to the very similarity between their titles, which would probably track Ricard's origins back to the four kingdoms. However, that wouldn't make any sense in the actual game.
- Ricard is considerably implied to be the son of Knight King Rendal.
References
Edit
↑ Elite Knight Set descriptions.
↑ Ricard's Rapier description.
Community content is available under
CC-BY-SA
unless otherwise noted.