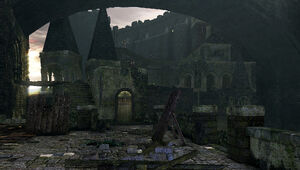 "Things are getting treacherous in these parts. A horrible goat demon has moved in below. And up above, there's that humongous drake, and a bull demon, too. If you stick around this place, it might end up being your grave! Nee hee hee hee hee!"
The Undead Burg is a location in Dark Souls. It is a fortified town surrounded by large walls and watchtowers, filled with hostile undead. It consists of both an upper and lower section. The lower section can be accessed with the Basement Key at the door atop the bridge, opposite the Hellkite Dragon.
There is one bonfire in Undead Burg. Beyond the area where the Hellkite Dragon is first sighted, it is within the structural supporting pillar of the colossal bridge; the entrance of which is to the left of a Hollow Soldier wielding a crossbow.
The ladder behind the three Undead Rats located under the bridge that leads to the Sunlight Altar (where the Hellkite Dragon perches initially) is bugged. If the player attempts to slide down on it, they will go through the floor and out of the level instead, falling to their doom. Climb down the ladder normally to avoid this.
Community content is available under
CC-BY-SA
unless otherwise noted.