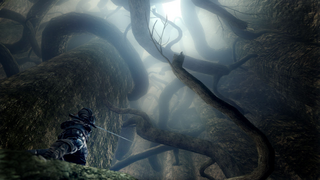 The Great Hollow is a location in Dark Souls.
Adjacent locations
[
]
Description
[
]
The Great Hollow is in the center of a giant tree, the entrance of which is located in the poison swamp at the bottom of Blighttown. There are two illusory walls that lie along the way. At the very bottom of the tree is the entrance to Ash Lake.
The Great Hollow can be a dangerous place due the constant possibility of falling to one's death, getting Cursed by Basilisks, or failing to deal with the Mushroom Parents and Mushroom Children.
Notes
[
]
The Great Hollow is notable for the relatively large amount of Crystal Lizards, many of which spawn in close proximity to one another.
Strategies
[
]
Enemies
[
]
Respawning
[
]
Non-respawning
[
]
Notable items
[
]
Rings
[
]
Upgrade materials
[
]
Miscellaneous
[
]
Trivia
[
]
Gallery
[
]