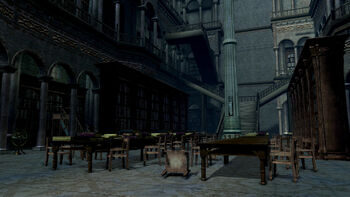 "The Archive Tower, once a trove of precious tomes and letters, became a prison after the onset of Seath's madness. The serpent men who guard the prison know not the value of what they hide..."

The Duke's Archives is a location in Dark Souls. It can be reached by going through a large hall in Anor Londo (the one with two Sentinels, a chest, and a Mimic), and running past the Sentinel on the balcony, after the Lordvessel has been placed.
Adjacent locations
Edit
Description
Edit
The Duke's Archives is a massive library fortress located in Anor Londo. It contains vast amounts of knowledge including many spells and magical relics.[1] Here, players can learn powerful crystal spells, as well as obtain crystal and magic embers, and weapons.
The library is home to Seath the Scaleless, and was granted to Seath by Gwyn, along with a Bequeathed Lord Soul Shard, as a reward for aiding in the birth of the Age of Fire.[2] It is here that Seath delves into his experiments and studies. The Six-Eyed Channelers found here are servants of Seath, seeking and kidnapping inhabitants of Lordran for his research.[3] The Pisaca are among the results of these experiments.[4]
Characters
Edit
Characters
Edit
Respawning
Edit
Non-respawning
Edit
Miscellaneous
Edit
Sorceries
Edit
Upgrade materials
Edit
Almost all of the enemies here have very high magic resistance, and can also deal very high damage. On top of that, the layout of the level means that frequently there will be enemies that the player cannot reach immediately. In summary, it is a good idea to keep moving and not use sorceries or magic-based weapons.
References
Edit