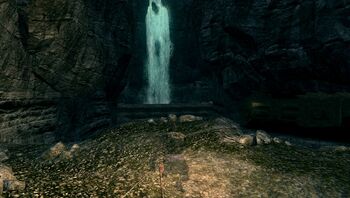 The Catacombs is a location in Dark Souls. It can be reached via the graveyard near Firelink Shrine. It leads to the Tomb of the Giants.
General Information
Edit
The Catacombs is an underground area filled with Skeletons, Necromancers and Wisps. Necromancers, a non-respawning enemy, hide in the shadows of many areas and will continue to resurrect nearby Skeletons until they draw their last breath. Alternatively, using a Divine weapon will prevent Skeletons from reanimating without the need to first dispatch the Necromancers.
There are two bonfires.
Gravelord Servant - Although technically within the Tomb of the Giants, players can only reach the covenant by climbing into a coffin within The Catacombs.
Characters
Edit
Patches - Found at the switch next to the second bonfire. Has a mini-event associated with him here (click his link for more information). Appears here only if Reah and her company have not yet left Firelink Shrine and if Pinwheel hasn't been defeated.
Vamos (Merchant and blacksmith) - He can be found after falling to his location from above. He will open a shortcut to the valley of Bonewheel Skeletons.
Paladin Leeroy (White Phantom) - His sign is found on a ledge close to the boss room; it can only be reached by falling from above.
Respawning
Edit
Non-Respawning
Edit
Notable Items
Edit
Miscellaneous
Edit
Upgrade Materials
Edit