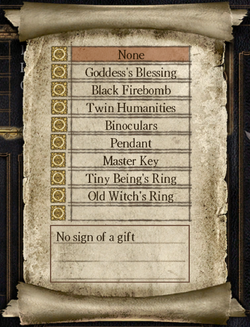 For the class of items in Dark Souls II, see Starting Gifts (Dark Souls II).
For the class of items in Dark Souls III, see Burial Gifts.
Starting Gifts are starting items in Dark Souls which the player must choose from during Character Creation.
Unless otherwise stated, the player receives just one unit of the gift.
In-Game Description
No sign of a gift.
Choose this option if no gift is desired.

In-Game Description
Divine holy water. Fully restores HP and status.
Divine Blessing ×3. Consumable item that fully restores HP and clears negative status effects. Does not cure Curse.

In-Game Description
Explodes upon impact when thrown. More deadly than std bomb.
Black Firebomb ×10. Throwable item that creates a powerful blaze, inflicting Fire Damage to those near the impact. They can be used to easily defeat the Asylum Demon when first encountered and therefore is a relatively easy way to obtain the Demon's Great Hammer on the first playthrough.

In-Game Description
Tiny sprite called humanity. Sometimes found on carcasses.
Twin Humanities. A consumable item that gives the player 2 units of liquid Humanity and fully replenishes their HP. The Humanity item can also be easily obtained from various locations, bosses, enemies and stolen in liquid form from most non-player characters.
In-Game Description
Binoculars. Use to peer at faraway sights.
Binoculars. Used to see distant threats, scenery, and other objects. This item can also be found in the graveyard, next to Firelink Shrine.

In-Game Description
Trinket. No effect, but fond memories comfort travelers.
Pendant. Can be used to trade with Snuggly the Crow for a Souvenir of Reprisal and is also obtainable if certain circumstances are met.

In-Game Description
Opens any basic lock. Initial equip for thief.
Master Key. Starting item for Thief class. Reusable key that unlocks numerous areas earlier than usual. These include the Valley of Drakes, various doors in Undead Burg and others.
In-Game Description
Special tribal ring. HP recovers slowly while equipped.
Tiny Being's Ring. An accessory that gives the player a small boost in Health. Contrary to its description, it does not regenerate the wearer's HP and can also be obtained later on in the player's travels.

In-Game Description
Gift from a witch. Ancient ring with no obvious effect.
Old Witch's Ring. Allows the Chosen Undead to understand the words of Quelaag's Sister. Can also be obtained later through an alternative method.
Community content is available under
CC-BY-SA
unless otherwise noted.