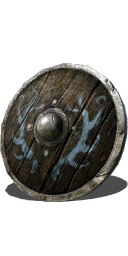 For other games, see Small Shields and Small Shields (Dark Souls III).
Small Shields are a type of shield in Dark Souls II.
Characteristics
[
]
Small Shields are the smallest and lightest of the shields, but provide the least defense in return. They are mostly used to parry attacks coming in from an opponent. Small shields have a longer parry animation, which makes for an easier parry.
Small Shields
[
]
Small Shields

Attack Values
Required Attributes
Dura / Wt
Damage Reduction (%)
Attribute Bonus

Benhart's Parma

52

–

–

–

–

–

–

100

10

35

7

–

–

–

60

2.0

80

80

40

50

50

50

50

50

50

D

C

–

–

–

–


Buckler

60

–

–

–

–

–

–

100

10

30

7

13

–

–

50

1.5

75

30

65

50

50

50

40

40

40

D

–

–

–

–

–


Cleric's Parma

47

–

–

–

–

–

–

100

10

20

7

7

–

–

50

1.5

50

70

75

75

65

30

30

30

30

–

E

–

–

–

–


Cleric's Small Shield

25

–

–

34

–

–

–

100

10

30

7

–

–

–

60

2.5

75

70

75

90

65

40

40

40

40

–

D

–

–

C

–


Crimson Parma

50

–

–

–

–

–

–

100

10

35

6

–

–

–

40

1.0

75

40

20

45

45

30

25

25

25

D

–

–

–

–

–


Cursed Bone Shield

23

–

27

–

–

–

–

100

10

30

12

12

–

–

70

3.0

85

70

85

70

70

30

30

60

60

E

D

–

C

–

–


Foot Soldier Shield

42

–

–

–

–

–

–

100

10

20

6

–

–

–

20

1.5

60

55

20

35

20

30

25

25

25

D

–

–

–

–

–


Golden Falcon Shield

45

–

–

–

–

–

–

100

10

35

7

10

–

–

50

2.0

80

65

65

65

65

20

20

20

20

D

D

–

–

–

–


Iron Parma

65

–

–

–

–

–

–

100

10

45

10

–

–

–

80

3.0

85

30

65

65

50

30

30

30

30

D

–

–

–

–

–


Llewellyn Shield

73

–

–

–

–

–

–

100

10

45

9

7

–

–

110

2.5

90

75

70

70

70

50

50

45

45

C

B

–

–

–

–


Magic Shield

22

40

–

–

–

–

–

100

10

25

8

14

–

–

60

2.0

75

95

70

70

70

10

10

10

10

–

D

C

–

–

–


Manikin Shield

35

–

–

–

–

–

–

100

10

40

9

12

–

–

40

1.5

85

35

35

35

35

65

65

65

65

C

C

–

–

–

–


Phoenix Parma

22

–

34

–

–

–

–

100

10

40

9

10

–

–

50

2.5

70

40

90

40

40

45

45

45

45

C

–

–

C

–

–


Sanctum Shield

–

120

–

80

120

–

–

100

10

40

6

7

18

18

30

2.0

85

70

85

70

70

30

30

60

60

–

–

C

–

C

C


Slumbering Dragon Shield

40

–

–

50

–

–

–

110

15

45

14

–

–

–

60

4.5

45

60

60

85

60

65

65

65

65

–

–

–

–

B

–


Small Leather Shield

50

–

–

–

–

–

–

100

10

30

5

–

–

–

70

0.5

75

35

50

60

40

50

40

40

40

D

–

–

–

–

–


Sunlight Parma

50

–

–

–

–

–

–

100

10

35

7

11

–

–

50

1.5

65

45

30

90

40

85

70

70

70

D

C

–

–

–

–


Target Shield

60

–

–

–

–

–

–

100

10

35

8

12

–

–

50

2.0

80

30

65

50

45

50

40

40

40

D

–

–

–

–

–


Transgressor's Leather Shield

25

–

–

–

34

–

–

100

10

45

7

–

–

–

70

3.0

75

35

50

60

90

50

40

40

40

D

–

–

–

–

C


Varangian Shield

52

–

–

–

–

–

–

100

10

40

9

11

–

–

70

3.0

80

40

40

40

20

60

60

60

60

D

E

–

–

–

–


Watcher's Shield

40

–

–

–

–

–

–

100

10

40

8

11

–

–

70

3.0

95

65

65

90

80

40

40

50

50

C

C

–

–

–

–