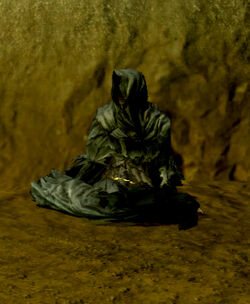 "Hmm... A mere Undead, yet you can see me? Fascinating... I am Quelana of Izalith. I am not often revealed to walkers of flesh. You have a gift. Are you, too, one who seeks my pyromancy?"
— Quelana of Izalith
Quelana of Izalith is a character and Pyromancy trainer in Dark Souls. She is voiced by Jenny Funnell, who also voiced the Darkmoon Knightess.
Location
[
]
Quelana sits on an island in Blighttown directly in front of the entrance to Chaos Witch Quelaag's lair. The most guaranteed way to encounter her is to level up a Pyromancy Flame to +10. Being invaded by or summoning someone with a +10 or above flame reportedly spawns her as well.
Plot
[
]
Upon meeting Quelana, she offers to teach the player Pyromancy. After a while, she asks the player to defeat what is left of her corrupted sisters*, Quelaag and the Daughter of Chaos, and the Bed of Chaos to free the consumed souls of her mother and sisters. Upon completing her requests, she gifts the player her final pyromancy: Fire Tempest.
*Despite Quelana implying the player must kill all of her sisters, killing Quelaag's Sister does not contribute towards receiving the Fire Tempest pyromancy.
Lore
[
]
Quelana was originally a "flame witch" who used fire sorcery. When Izalith was consumed and the demons infested the city, she fled and became the creator of Pyromancy. It is unknown whether the knowledge of fire sorcery was forgotten by her or whether she created Pyromancy as a safer version of it. Quelana passed on her knowledge to Salaman, who in turn passed on his knowledge of pyromancy to the people of the Great Swamp.
According to a developer interview, Quelana and the other Daughters of Chaos are a different species, despite appearing similar to humans.[1] Her in-game model may not reflect her "canon" appearance, with pale, ash-colored skin, as seen in the opening cutscene and achievement art.
Notes
[
]
She is the only Trainer that can upgrade the Pyromancy Flame past the limit of +15 and on to the much stronger flame version up to the max of +5.
She may not appear if the player has broken either root on the Bed of Chaos prior to meeting her.
Strategy
[
]
Quelana has an unlimited amount of pyromancies at her disposal. She seems to prefer Great Fireball and Fire Tempest the most. Both are very powerful if they connect, but have slow start-ups, allowing players to go for the backstab if they are close enough. Quelana may deal high damage but is physically very weak. Quelana is also just as susceptible to poison as the player is; one can choose to attack her and have her wade into the swamp surrounding her, leading to a slow death. Finally, the Infested Barbarians can also damage her heavily should they chase the player to that point.
Wares
[
]
Character information
[
]
Health and souls
[
]
Health
Souls
NG
NG+
NG
NG+
698
1,074
1,000
2,000
Defenses
[
]
Physical Defenses
Elemental Defenses
Resistances
240
247
240
240
266
915
224
A
A
B
These stats are sourced from FuturePress's Official Dark Souls Strategy Guide.
Equipment
[
]
Drops
[
]
Dialogue
[
]
Click to see dialogue (contains spoilers)
First meeting
Hmm... A mere Undead, yet you can see me? Fascinating... I am Quelana of Izalith. I am not often revealed to walkers of flesh. You have a gift. Are you, too, one who seeks my pyromancy? Like Salaman?
Answering 'Yes'
Yes, of course. It should be expected. Very well. You shall be my pupil. But to pursue my pyromancy, you must give something up. Are you prepared to do this?
Answering 'No'
What? Considering my pyromancy?
Answering 'No' again
Hmm, very well. Then we are done. You have spoken. Now away with you.
Talk 1x
Long ago, I accepted another pupil, like yourself. Over two-hundred years ago there was a man, almost as bungling as you... In your world he was called Salaman the Master Pyromancer. The little rascal really made something of himself.
Talk x2
Pyromancy is the art of invoking and manipulating fire. But remember one thing. Always fear the flame, lest you be devoured by it, and lose yourself. I would hate to see that happen again...
Farewell
Now, go. Whatever you do, do not crack and go Hollow. Lest my time spent on you be wasted.
Greeting
Ah, there you are. I was expecting you. Let us begin.
Farewell without buying a pyromancy
No luck, hm... Well young pupil, you must have patience. But do not keep me waiting much longer.
Greeting x2
Ah, you again. I applaud your diligence.
Greeting after leaving Blighttown
Ah, it has been some time. Truth be told, I thought you had perished.
Talk x3
The Witch of Izalith? Please do not speak of her. I abandoned my mother and sisters and fled to this land. Now I roam these parts, feigning ablution, and pretending to seek answers.
Talk x4
Hmm... I have a favour to ask... My mother, The Witch of Izalith, was one of the primeval Lords... Her power came from the soul that she found near the First Flame.

...She focused this power to light a flame of her own, but she failed to control it. The Flame of Chaos engulfed Mother and my sisters, and moulded them into deformed creatures. Only I escaped, and now I am here. But my mother and sisters have been in anguish since. I beseech you. Free Mother and my sisters from the Flame of Chaos. I cannot do it myself; I lack the strength, and the bravery... But you... I realize what I am asking. But please, free their poor souls... Mother's ambitions were misguided, no doubt, but surely a thousand years of atonement is enough!

After killing the Bed of Chaos
Outstanding... You have done very well. Thank you, I am blessed to have met you. I suppose I can call you fool no longer. I can hardly thank you enough. Please take this... It is all of me.
Talk after killing the Bed of Chaos
Ah, very well. There is nothing left for me to teach you. Our time together is done. It was short, but sweet.
Talk after killing the Bed of Chaos x2
Fool. Hurry along. I can do nothing more for you.
Leaving without buying a Pyromancy after killing the Bed of Chaos
No luck, hmm... Do not let it bother you.
Attacking
Hmm... The voice of reason fails? Then here is a lesson for you... That you can only learn once!
Killing
Farewell, my mother, my sisters... What have you done...
Trivia
[
]
Gallery
[
]
References
[
]