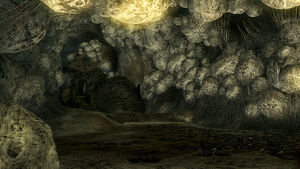 Quelaag's Domain is a short area in Dark Souls located between the base of Blighttown and the Demon Ruins.
Description
Edit
Numerous eggs of humanity are housed in Quelaag's Domain, the web-filled tunnels leading in and out of the area. Inside is the arena where Quelaag is fought and where Quelaag's Sister nests by her bonfire. The second Bell of Awakening is also found immediately after the fight with Quelaag.[1]
Adjacent Locations
Edit
Chaos Servant - The covenant is located down the flight of stairs next to the Bell of Awakening, behind an illusory wall. Beyond this wall is Quelaag's Sister, the leader of the Chaos Servant covenant.
Characters
Edit
Respawning
Edit
Notable Items
Edit
Miscellaneous
Edit
Pyromancies
Edit
References
Edit