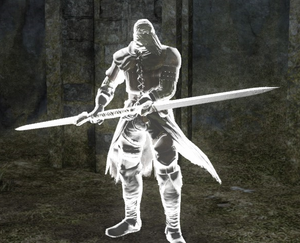 For other uses, see Phantom (disambiguation).
Phantom summoning is a gameplay mechanic in Dark Souls II.
General information
[
]
A phantom is another player, or specific NPCs, which can be summoned into the player's world to help them defeat the area boss. They are summoned by activating a large summon sign.
Phantoms are typically white and have white summon signs, however, members of the Heirs of the Sun covenant will appear as gold phantoms and have gold summon signs.
A player can have no more than two phantoms in their world at one time. With the release of Scholar of the First Sin, the player may now have up to three phantoms.
Phantoms' duty
[
]
Phantoms are a more lasting ally than a shade, but are still temporary nonetheless. If a phantom dies, or the world host dies, the phantom is sent back to their own world in the same condition they were before they were summoned. If a phantom fulfills its duty, they will be sent back to their world in a new condition. If they were hollowed they will turn human and all spell casts and weapon durability will be replenished. Estus Flasks are also fully restored and lost health is refilled.
A phantom will fulfill its duty by either defeating the area boss or "timing out" by allowing a long period of time to pass. The longer a phantom is present, it will start to lose its radiance indicating that they are going to "time out".
Rewards
[
]
When a phantom fulfills its duty they will receive a Token of Fidelity. If they are a member of the Heirs of the Sun, they will instead receive a sunlight medal.
NPC phantoms
[
]
The following is a list of all the NPC phantoms:
List may be incomplete
*Only appears in the Lost Crowns Trilogy DLCs
Trivia
[
]
It is possible for players to disguise themselves as a phantom by using the White Ring.
Gallery
[
]