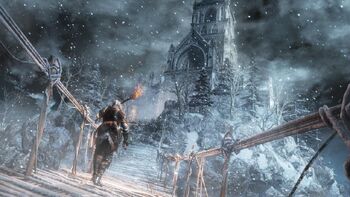 The Painted World of Ariandel is a location in Dark Souls III, accessible through the downloadable content Ashes of Ariandel.
Entering
[
]
In order to access this area, the player must travel to the Cleansing Chapel in the Cathedral of the Deep and speak with Slave Knight Gael, near the bonfire. Exhausting his dialogue will start a cutscene and the Ashen One will be teleported into the Painted World.
Description
[
]
When the Ashen One reaches the Painted World, they will discover that this land is strange, cold and snow coated, and filled with deadly enemies, just like the Lordran's Painted World of Ariamis.
There are some differences with Ariamis, though; first of all, the area is larger and also there are many new enemies. The player will recognize some similar structures anyway, such as the wooden bridge that leads to a cathedral. There is also a tower reminiscent of Priscilla's tower.
Bonfires
[
]
Adjacent locations
[
]
Even if the Painted World of Ariandel is accessible through the Cathedral of the Deep, there is no way to come back directly there, although the player is allowed to travel between bonfires to reach other areas of Lothric.
If the player owns The Ringed City, defeating the boss of the Painted World will unlock a path to the Dreg Heap.
Characters
[
]
Enemies
[
]
Respawning
[
]
Non-respawning
[
]
Bosses
[
]
Items
[
]
Snowfield
[
]
Rope Bridge Cave
[
]
Corvian Settlement
[
]
Snowy Mountain Pass
[
]
Ariandel Chapel
[
]
Depths of the Painting
[
]