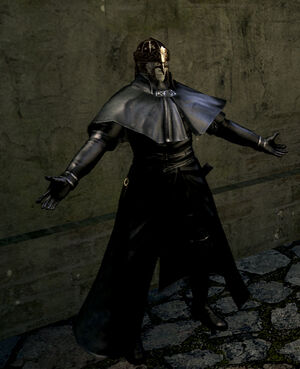 "Thou art welcome anytime. It is only human to commit a sin... Heh heh heh heh..."
— Oswald of Carim
Oswald of Carim is a character in Dark Souls. He is also known as Oswald the Pardoner. He is voiced by David Gant, who also voices Aldia, Scholar of the First Sin in Dark Souls II.
Oswald of Carim appears in the bell tower guarded by the Bell Gargoyles in the Undead Parish. He will only appear after the player has rung the Undead Parish Bell of Awakening.
Oswald sells the Karmic Justice miracle, as well as rings of various resistances, a Book of the Guilty, and Indictments. Oswald is most useful for his ability to absolve a player of sin: in doing so, all formerly friendly NPCs that the player had made hostile earlier are reverted to their neutral state and sin accumulated from killing other characters or players is eliminated. Oswald also allows players to leave covenants without facing a betrayal penalty. However, players will still lose half of their offerings to that covenant.
He is very easy to kill as long as the player takes care of him quickly. He can heal with his talisman and use the miracle Karmic Justice which counters multiple hits landing on him with a powerful nova explosion, so if he used this miracle, it is best to use a slow, one hit kill weapon to avoid triggering it. He also equips a parrying dagger in his left hand and can parry attacks fairly easily, which normally follows up with a powerful and possibly fatal riposte.
Little is known about Oswald; he reveals little of his own past and other characters never mention him. He is aware of the existence of Petrus, as well as his treachery, but it is unknown how he knows this.
Curiously, Oswald's set is found in the Painted World of Ariamis. Whether this is a future version of himself that succumbed there, or that another pardoner had lived (and died) there, is unknown.
Character Information
Edit
Health and Souls
Edit
Health
Souls
NG
NG+
NG
NG+
638
1,595
2,000
10,000
Physical Defenses
Elemental Defenses
Resistances
141
148
141
141
163
142
126
C
C
C
These stats are sourced from FuturePress's Official Dark Souls Strategy Guide.
Equipment
Edit
Click to see Dialogue (Contains Spoilers)
| | |
| --- | --- |
| Introduction | Greetings. I am Oswald of Carim, the pardoner. Thou art a friend. For thee, a warm welcome. Cometh thou to confess? Or to accuse? For indeed all sin is my domain. |
| Leaving | Thou art welcome anytime. It is only human to commit a sin... Heh heh heh heh... |
| Greetings x1 | Greetings, and welcome back. I am pleased to see thee preserving thine humanity. |
| Greetings x2 | Thou appearest to lack faith, but the Gods are magnanimous. If thou desireth to preserve thine humanity, then confess thy misdoings to me. Be it granting absolution or doling penance; all sin is my domain. |
| Greetings x3 | Greetings, and a pleasure to see thee again. Art thou in need of mine assistance? Do not be bashful. |
| Greeting when player has sinned | Good tidings, thou art welcome. Laudable is thy dedication to sin. |
| Talk x1 | Hmm... Hast thou acquaintance with Petrus of Thorolund? I wager you two hath likely found much in common. For, is he not, too, drenched in sin? Heh heh heh heh... |
| Leaving after purchasing an Indictment | Stocking up on Indictments? How honorable of you! Heh heh heh heh... |
| When attacked | Thou hast made thyself clear. And thou leaveth me no choice. I shall accept thy next confession, in the hereafter! |
| Killing the player | Much trouble hast thou caus'd. Thou was weak in spirit, broken by the weight of thy sin. |
| Killing Him | Thou shalt regret this... Fear thine indelible wrongdoings... |
Oswald was originally going to sell Affidavits, an item that allowed players to abandon covenants.
Oswald's standing stance is the middle of a Well! What is it! gesture.
According to the Dark Souls: Design Works art book, Oswald used to be a Black Knight, possibly a Commander.

If its contents are canon, it would mean Oswald was one of Gwyn's guards and a witness of the First Linking of the First Flame, and the only one that survived with his sanity and body intact.

Though Oswald claims that there's no sin he can't undo, this is not quite true. Killing Petrus before the other Way of White members arrive at Firelink Shrine will cause them to be irrevocably aggro'd, and the Darkmoon Knightess likewise will never de-aggro if Gwyndolin is killed.