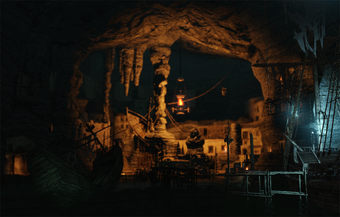 No-man's Wharf is a location in Dark Souls II.
Description
[
]
No-man's Wharf is a dilapidated harbor and village shrouded in darkness and populated with hollowed warriors and monstrous Dark Stalkers. It is accessible via Heide's Tower of Flame once the Dragonrider boss has been defeated.
The area is fairly large and the severe amount of enemies and lack of bonfires means that a player will likely need two weapons or some Repair Powder to successfully make it to the boss. There is, however, a shortcut that can be unlocked which makes it easier to access the area's boss (only in Scholar of the First Sin).
Adjacent locations
[
]
Bonfires
[
]
Unseen Path to Heide - The only bonfire in the area is found in the cave filled with stalagmites upon entering from Heide's Tower of Flame.
Characters
[
]
Enemies
[
]
Respawning
[
]
Non-respawning
[
]
Boss
[
]
Items
[
]
Ammunition
[
]
Armor
[
]
Miscellaneous
[
]
Rings
[
]
Spells
[
]
Souls
[
]
Upgrade Materials
[
]
Weapons
[
]
Notes
[
]
An upright segment of the dock that leads to the lookout where Carhillion is encountered, can be kicked down creating a shortcut that provides easier access from the bonfire to the ship without having to traverse the village (only in Scholar of the First Sin).
Gallery
[
]