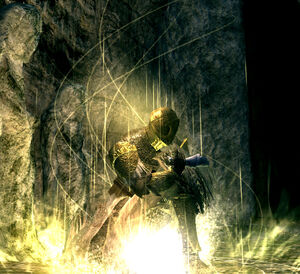 For other uses, see Miracle (disambiguation).
Miracles are a form of magic in Dark Souls.
General information
[
]
Miracles are cast using talismans as a medium.[1] Talismans scale with the Faith stat, although there is an exception.
Most miracles can be purchased from various merchants found throughout the game. Some are found as lootable items or given by various characters.
Miracles are largely utility spells focusing on defensive purposes such as healing, deflecting, and augmentation with few providing pure damage. Unlike sorcery, offensive miracles can deal lightning damage in addition to magic damage.
Lore
[
]
The power of miracles are granted to casters by reading tales that bring about revelation.[2][3]
Miracles are the power of the gods. They trace their origin to the dawn of the Age of Fire, when Gwyn, Lord of Sunlight led his knights and the other lords in a war against the Dragons.
Miracles
[
]
Achievements/Trophies
[
]
References
[
]