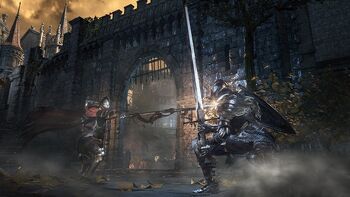 Hyper Armor is a gameplay mechanic in Dark Souls III.
Premise
[
]
The inclusion of the Hyper Armor gameplay mechanic has generated some misunderstandings among the gaming community. Most players expected Dark Souls III to feature a standard Poise stat, such as that seen in Dark Souls and Dark Souls II, but Hyper Armor works in a slightly different manner, which lead the community to think that Poise was not even working.
Even if the game creator, Hidetaka Miyazaki, during an interview confirmed that Poise was "working as intended", players who were wearing Heavy Armor sets (such as Havel's Set) noticed they were getting staggered by any kind of attacks, even those from the simplest enemies.
That was until the release of Patch 1.08, which fixed Poise and Hyper Armor functionality.
Overview
[
]
Hyper Armor is a new gameplay mechanic introduced in Dark Souls III that applies to the effects of Poise. It activates during the attack animations of the player, allowing them to avoid getting staggered if receiving a hit during this time.
The Hyper Armor's activation depends on three factors:
The type of weapon wielded by the opponent (either in PvE or PvP).
The Poise numeric parameter.
This means that "passive poise", as seen in previous installments, does not apply anymore. The player must actually attack or they will get staggered nonetheless. There's an important thing to remember, though: small weapons (such as Daggers, Straight Swords, etc.) don't feature Hyper Armor at all.
Hyper Armor is also activated by some Skills (Stomp being an example), granting more efficiency during the effect. However, opponents may easily avoid the next attack, potentially making the skill useless (especially in PvP).
Tables
[
]
Here you can find tables for each category of weapons that can use Hyper Armor effectively:
Key:
Weapon wielded: Weapon used by the player.
Weapon opponent: Weapon used by the opponent.
Tank 1 hit: This is the numeric minimum value of Poise needed to activate Hyper Armor and "tank" (absorb a hit without flinching) one hit during an attack.
Tank 2 hit: This is the numeric minimum value of Poise needed to activate Hyper Armor and "tank" two hits during an attack.
Note: The following values may not seem to follow any pattern whatsoever. They are experimental data obtained during gaming sessions.
| | | | |
| --- | --- | --- | --- |
| Weapon wielded | Weapon opponent | Tank 1 hit | Tank 2 hits |
| Greatsword | Straight sword | 0.00 | 7.25 |
| Greatsword | Greatsword | 39.89 | 51.91 |
| Greatsword | Ultra Greatsword / Greataxe | 47.64 | 58.11 |
| Greatsword | Hammer | 35.08 | 48.06 |
| Greatsword | Great Hammer | 53.63 | 62.90 |
| | | | |
| --- | --- | --- | --- |
| Weapon wielded | Weapon opponent | Tank 1 hit | Tank 2 hits |
| Hammer | Straight sword | 10.44 | 28.35 |
| Hammer | Thrusting sword | 0.00 | 8.81 |
| Hammer | Greatsword | 53.56 | 62.85 |
| Hammer | Ultra Greatsword / Greataxe | 59.55 | 67.64 |
| Hammer | Hammer | 49.85 | 59.88 |
| Hammer | Great Hammer | 64.18 | 71.34 |
| | | | |
| --- | --- | --- | --- |
| Weapon wielded | Weapon opponent | Tank 1 hit | Tank 2 hits |
| Ultra Greatsword / Greataxe | Greatsword | 31.05 | 44.84 |
| Ultra Greatsword / Greataxe | Ultra Greatsword / Greataxe | 39.95 | 51.96 |
| Ultra Greatsword / Greataxe | Hammer | 25.54 | 40.43 |
| Ultra Greatsword / Greataxe | Great Hammer | 46.81 | 57.45 |
| | | | |
| --- | --- | --- | --- |
| Weapon wielded | Weapon opponent | Tank 1 hit | Tank 2 hits |
| Great Hammer | Greatsword | 22.22 | 37.78 |
| Great Hammer | Ultra Greatsword / Greataxe | 32.26 | 45.81 |
| Great Hammer | Hammer | 16.00 | 32.80 |
| Great Hammer | Great Hammer | 40.00 | 52.00 |