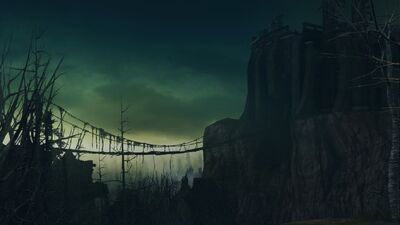 The Huntsman's Copse is a location in Dark Souls II.
Description
Edit
The Huntsman's Copse is a dark, forested area filled with a variety of undead, from club-wielding Rogues to grimy Artificial Undead armed with huge sickles. 
It is initially locked until Licia of Lindeldt is spoken to at Heide's Tower of Flame after defeating the Dragonrider. Exhausting her dialogue here will prompt her to move to Majula, next to the contraption that cannot be activated. She will request 2,000 souls to make the contraption turn, opening a clear path to Huntsman's Copse. Alternatively, one can simply kill her and take the Rotunda Lockstone necessary to operate the contraption for themselves.
When the Undead Curse started spreading all over Drangleic, the Huntsman's Copse was used as an Undead hunting ground. The Iron King presided over the hunts and the many cells that are encountered in this area were used for imprisoning the undead. The undead hunts came to an end when the curse of undead decimated almost the entire population of Drangleic, and hollow Captive Undead, Rogues, Skeletons, and other dangerous creatures freely wander the copse.
Adjacent locations
Edit
Characters
Edit
Characters
Edit
Respawning
Edit
Non-respawning
Edit
Miscellaneous
Edit
Upgrade materials
Edit
Community content is available under
CC-BY-SA
unless otherwise noted.