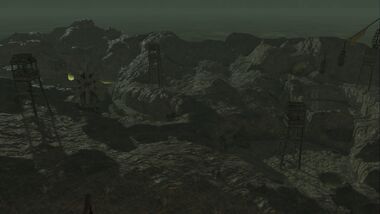 The Harvest Valley is a location in Dark Souls II.
Description
Edit
Harvest Valley is an area that lies beyond Huntsman's Copse. It is an open, charred valley scattered with poisonous pits and mines, and overlooked by a huge decaying windmill. 
Adjacent locations
Edit
Poison Pool - Near the entrance from Huntsman's Copse, the bonfire is in a cave on the other side of a poisonous pool.
The Mines - After the quarry with various Undead Laborers and two Mounted Overseers, the bonfire is located in a small cavern at the end of a nearby tunnel.
Covenants
Edit
Heirs of the Sun - To the left of the entrance to Earthen Peak is a road which leads to a cave containing a broken statue bathed in sunlight, similar in appearance to the Sunlight Altar from Dark Souls. Kneeling in front of it will prompt the player to join.
Characters
Edit
Respawning
Edit
Non-respawning
Edit
Miscellaneous
Edit
Upgrade Materials
Edit
Community content is available under
CC-BY-SA
unless otherwise noted.