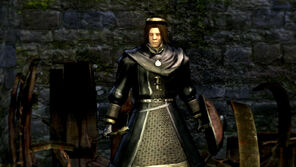 "Somebody! Please, let me out of here! Somebody, anybody! Help me! Unlock the door!... Damn...... I'm finished... How did this ever happen..."
— Griggs of Vinheim
Griggs of Vinheim is a sorcery trainer and character in Dark Souls. A soft-spoken, modest magician, Griggs is the apprentice of Big Hat Logan. He is voiced by Blake Ritson, who also voices Royal Sorcerer Navlaan in Dark Souls II and Hawkwood the Deserter in Dark Souls III.
Location
[
]
Trapped in a room at the bottom of the Undead Burg (in the alley before the Capra Demon fight), he may be rescued there using the Residence Key sold by the Undead Male Merchant.
After being rescued, he finds his way to the Firelink Shrine, where he stands under a ledge close to the well.
Should all of his items and sorceries be purchased, he will set off searching for his master, Big Hat Logan. He is doomed to fail in his mission and will turn up in Sen's Fortress as a hollow.
Plot
[
]
Griggs is trapped in a room while caught exploring. He has been searching for his master but cannot find him. After his rescue by the player, he expresses his gratitude by selling the player sorceries.
Griggs' ultimate goal is finding Big Hat Logan, and they do indeed get reunited if the player did not purchase all of Griggs' items before rescuing Logan. However, Logan will leave again, leaving Griggs with some of his knowledge. Depending on the player's actions, Griggs will then be hollowed in Sen's Fortress, or remain in Firelink Shrine until the end of the game.
Lore
[
]
Not much is known about Griggs. Judging from Rickert's claims that Big Hat Logan was a hundred years before his time, it can be assumed that either Rickert is from a hundred years in the future, or that Logan (and thus Griggs) are from a hundred years ago and ended up in the present timeline due to Lordran's time warping.
He wears the Black Sorcerer Set. In Vinheim, the Sorcerers who wear Black Sorcerer Set are often secret members of the Dragon School.
Strategy
[
]
Griggs is very fragile and his sorceries pose no threat. They deal insignificant damage and are easily dodged.
Notes
[
]
Griggs will sell additional spells (such as Soul Spear and Homing Soulmass) after Big Hat Logan is rescued and leaves, allowing players to obtain two copies of some spells in the same playthrough.
3 Humanities can be stolen using the Dark Hand.
Wares
[
]
Griggs will not sell anything to the player unless they have at least 10 Intelligence.
Sorcery

Soul Arrow

Heavy Soul Arrow

Great Soul Arrow

Great Heavy Soul Arrow

Fall Control
Souls
1,000
2,000
6,000
8,000
1,500
Sorcery

Magic Weapon

Aural Decoy

Magic Shield

Soul Spear *

Homing
Soulmass *
Souls
3,000
1,000
3,000
40,000
20,000
* Only available once
Big Hat Logan
has arrived at, and left
Firelink Shrine
.
Character information
[
]
Health and souls
[
]
Health
Souls
NG
NG+
NG
NG+
659
1,205
1,000
3,000
Defenses
[
]
These stats are sourced from FuturePress's Official Dark Souls Strategy Guide.
Equipment
[
]
Drops
[
]
Dialogue
[
]
Click to see dialogue (contains spoilers)
| | |
| --- | --- |
| While trapped in the house | Somebody! Please, let me out of here! Somebody, anybody! Help me! Unlock the door! ...Damn... ...I'm finished... How did this ever happen... |
| Freeing him | Brilliant! You opened the door for me! Thank you; I am saved. I thought I might never escape. I am Griggs of Vinheim. A sorcerer of the school. I am much obliged for your assistance. Thanks to you, I may now resume my travels. |
| Talk after freeing him | Oh, hello. I am fine. I will rest a while, then return to Firelink Shrine. I have my sorcery. And I will be more cautious next time. Besides, I have an important task at hand. |
| Speaking with less than 10 intelligence | Oh, hello. Terrific to see us both in one piece. And pray that you never go Hollow! |
| Back at Firelink | Oh, hello. I regret meeting you under such compromising circumstances. At least we both made it back unscathed. Incidentally, would you care to learn any sorceries? You're clearly talented, and besides, I owe you. Of course we will require some materials, but I am happy to teach you some elementary spells. Are you interested? |
| Answering "Yes" | Splendid! Very well! I am pleased to have a chance to give something back. Well, then lets get started straight away. |
| Talk x1 | It's not that I am concerned for Master Logan's welfare. Even in this treacherous land, Logan's skills are unmatched. He is a true hero. ...No, the reason I seek Logan is... ...Well, it's really my own conceit, now isn't it? |
| Farewell without any purchase | Good-bye, then. Do stay safe. |
| Farewell after making a purchase | All right. That'll do it. That should help you on your journey. May we meet again. |
| Greetings after Reah and her companions leave | Did you see them? The three young clerics... headed for the Catacombs, to seek Kindling. Kindling is the art of feeding bonfires. The poor young girl, sent down into a tomb. What a terrible mission she is burdened with. |
| Greetings after Logan has left | Oh, there you are! Just so you know... Master Logan has left on his own again. It seems that he is still determined to find the famed Regal Archives in Anor Londo. I intend to search for him. Only, before I leave, there is one thing I wish to do. You see, Master Logan has left most of his books. With them I could teach you Logan's sorcery. ...You have done much to assist me. Before I leave on this journey, I will teach you all that Logan has to share. |
| After Logan has left | Oh, hello, you made it! Then, let us begin. As promised, I shall bequeath Master Logan's sorcery to you. |
| Attacking him | Curses, you leave me no choice! You aren't yourself any more. Forgive me! |
| Killing him | Rrrg... How could this... |
Trivia
[
]
Blake Ritson, Griggs of Vinheim's voice actor, was supposed to be the voice actor of Artorias the Abysswalker as well.