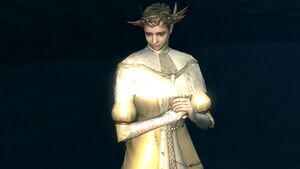 "For a very long time, I was trapped within the Crystal Golem. From my home I was taken, and banish'd to a plane of distortion. It was there, that thou came to my rescue. Long after I had relinquished all hope. So gleeful was I, my faith reneweth."
— Dusk of Oolacile
Dusk of Oolacile, also known as Princess Dusk,[1] is a character and merchant in Dark Souls. She is voiced by Emma Pierson, who also voiced Anastacia of Astora.
Location
[
]
Dusk is trapped inside a Golden Crystal Golem located behind the Hydra in Darkroot Basin. After defeating the Hydra, players may need to go through a load screen for the golem to spawn.
After killing the golem, Dusk will be available as a summon sign on the lake shore where the player fought the Hydra, next to a tree in front of the Knight Set loot. Reverse hollowing is not required to summon her (her summon sign vanishes after the Chosen Undead obtains the Broken Pendant).
Immediately after Manus, Father of the Abyss is defeated, Dusk appears in the arena and can be spoken to, but will vanish if the player leaves the area. Her summon sign will return as before in Darkroot Basin.
Plot
[
]
Dusk is an entirely optional character; she sells the player sorceries from Oolacile as a reward for rescuing her. These include: Hidden Body, Cast Light and Chameleon. Depending on the player's playstyle, it may be well worth the trouble of rescuing her.
While it is not necessary to the main storyline to interact with her, it is necessary if the player wishes to experience the events that take place in the Artorias of the Abyss DLC.
Artorias of the Abyss

[

]
Dusk's summon sign vanishes from Darkroot Basin after the Chosen Undead obtains the Broken Pendant. After being pulled into a nearby dark void and transported to the past land of Oolacile, the Chosen Undead discovers that Dusk has been abducted by Manus, Father of the Abyss.
Lore
[
]
Dusk is from the ancient and long-dead land of Oolacile, which practiced magic alien even to the magic realm of Vinheim. It is unknown how she was trapped in the Golem in the first place, but it is clear that she is in the wrong era.
Notes
[
]
If "No" is answered after her introduction, she will not be able to be summoned during that playthrough.
She does not fight back if attacked, she simply does nothing.
She drops nothing, and the Dark Hand can steal no liquid Humanity from her.
If the player kills Dusk right after defeating Manus, Elizabeth will also die.
Wares
[
]
Character information
[
]
Health and souls
[
]
Health
Souls
NG
NG+
NG
NG+
276
745
1,000
5,000
Defenses
[
]
Physical Defenses
Elemental Defenses
Resistances
89
89
89
89
101
49
116
D
D
C
These stats are sourced from FuturePress's Official Dark Souls Strategy Guide.
Equipment
[
]
Dialogue
[
]
Click to see dialogue (contains spoilers)
Introduction
So, it is thou who rescueth me? Most gracious, I am deeply obliged. I am Dusk of Oolacile. I cometh from an age long before thine...I can not stay here for long. So, before I disappear, allow me to ask one thing. My home, Oolacile, is the home of ancient sorceries. My hope is to pass this profound knowledge to thee, with thine approval. Would this be of assistance to thee?
Answering "Yes"
My heartfelt thanks. I am pleased beyond words. Then, I shalt engrave my signature. If thou art in need, pray summon me from my signature. It seems that my time is done. May the great flames guide thee.
Answering "No"
Yes, of course... I understand well. Pray forgive me. I have overstepped my boundaries. Farewell; another age, another land, beckons me to return. May the flames guide thee.
Greetings
I am Dusk of Oolacile. It is an honour to see thee again. I shall follow thine wishes.
Talk x1
For a very long time, I was trapped within the Crystal Golem. From my home I was taken, and banish'd to a plane of distortion. It was there, that thou came to my rescue. Long after I had relinquished all hope. So gleeful was I, my faith reneweth.
Talk x2
The sorceries of Oolacile differ from the magic of thine age. It is difficult to explain...Oolacile sorceries are, what doth one say? They are somewhat... of an approximation. Thine sorceries are more straightforward, negating all but thy self. Dost thou not find some fascination in these discrepancies?
Talk x3
My home Oolacile was reduced to ashes, long ago, in my time. I have been alone ever since...But to be summon'd thus, and to be of service to thee... It is... most rewarding... Oh, forgive me, such a long-past time is none of thine concern...
Farewell
If thou art in need, pray summon me again. I only wish to be of some genuine assistance...May the flames guide thee.
Attacking her
What dost thou... Whatever for...
Killing her
Ahh... Farewell, my rescuer...
Rescuing her from Manus
...Mmn...ahh...
...Aah...mmn...
Talk x4 (Summoning her after Manus fight)
...This may strike thine ear as somewhat peculiar, but...Long ago, in my homeland of Oolacile, I was beset by a creature from the Abyss. I would have perished then, were it not for the great knight Artorias. In truth, I saw little of what transpired, for mine senses were already fled! But even still, there was something about Artorias... A certain balance of the humours...That quite perfectly fits your semblance. Heavens, could it be that... ... Oh, dear me. That was Oolacile, many centuries ago. Please excuse my fanciful musings.
Talk x5
Excuse me for such whimsical utterances. Only, it was so very odd...You, and Artorias. I owe my life to each of you. And each seem to share some resonance of sorts...Perhaps it is the nature of true greatness.
Talk x6
I still think on that creature from the Abyss that preyed on me. My faculties were far from lucid, but I quite clearly sensed certain emotions. A wrenching nostalgia, a lost joy, an object of obsession, and a sincere hope to reclaim it... Could these thoughts belong to the beast from the Abyss? But if that were true, then perhaps it is no beast after all? Oh, please forgive my ramblings. It's just that, I wish to know the truth. And no one, not even loving Elizabeth, will tell me.
Trivia
[
]
Through her dialogue, she claims that she was freed from Manus by Artorias, however, she was in truth saved by the player character in the events of the DLC. This is reinfored by the fact that Artorias was consumed by the Abyss long before even locating Dusk (eventually being killed by the player). She demonstrates certain confusion and nostalgia when talking to the player after her "second" rescue by the hands of the Chosen Undead, and also by her dialogue, which implies that she did not remember her release from Manus very well, and that she somehow had "gazed" at the player before their actual era.
Gallery
[
]
References
[
]