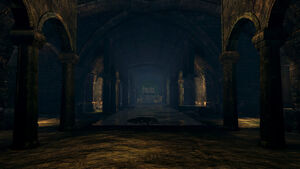 "Those banished from the Undead Burg eke out their existence in the Depths, a damp lair with no trace of sunlight. Nearly half of the Depths form a perilous flooded labyrinth."
— Key to Depths description.
The Depths is a location in Dark Souls. It is a large, dark sewer system accessed via a door in the lower Undead Burg. The door requires the Key to Depths to unlock, which is obtained from the Capra Demon.
Going through Depths is obligatory to reach Blighttown, which is possible after killing Gaping Dragon. It could be skipped by getting Master Key as a starting gift. Domhnall of Zena is encountered here as well as Laurentius of the Great Swamp, which moves if rescued.
Adjacent locations
Edit
There is one bonfire located in the Depths. It is located inside a small chamber in the sewers that can be unlocked by either the Sewer Chamber Key or the Master Key.
Characters
Edit
Characters
Edit
Respawning
Edit
Non-respawning
Edit
Notable items
Edit
Miscellaneous
Edit
Upgrade Materials
Edit
References
Edit
Community content is available under
CC-BY-SA
unless otherwise noted.