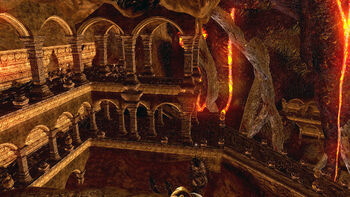 The Demon Ruins is a location in Dark Souls.
Found shortly after Quelaag's Domain. The Demon Ruins lead to Lost Izalith; however, Lost Izalith cannot be accessed until the player has retrieved the Lordvessel from Anor Londo and placed it in the Firelink Altar.
On arrival, most of the area is flooded with lava until the Ceaseless Discharge is slain.
Characters
Edit
Characters
Edit
Respawning
Edit
Notable Items
Edit
Catalysts
Edit