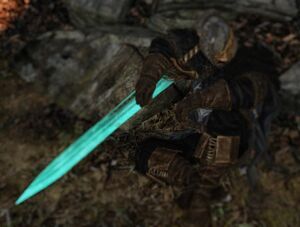 Benhart of Jugo is a character in Dark Souls II.
Description
Edit
Benhart is a proud warrior with a deep belief in living by the sword. He has short, blonde hair and a very thick Scottish accent. The most notable thing about Benhart is the teal greatsword that he always has on his person. His sword, the Bluemoon Greatsword, is his most prized possession, as it is a family heirloom, and he believes it has some hidden potential.
In regards to his personality, Benhart is honorable, and stalwart. He believes that strength is proved through combat, and came to Drangleic in order to test his mettle.
Benhart comes from a long line of great warriors. He was born in the desert land of Jugo and his signature weapon, the Bluemoon Greatsword, is a family heirloom that has been passed for generations amongst the members of his family. Determined to prove that his sword has some hidden potential within it, he travels from land to land to hone his swordsmanship in battle.
During his journey, he found the set of armor he wears during the events of the game. It can be noted that his armor depicts the sigil of a stag similar to the one found in Creighton's armor. This implies that, at some point during his travels, Benhart might have traveled to Mirrah and acquired his equipment there.
Eventually, Benhart ended up in Drangleic. In this land, he met the merchants Maughlin; of the western land of Volgen, and Magerold of Lanafir. Although both merchants were curious about Benhart's sword, both of them think that his weapon might be a replica of a certain legendary sword.
When certain conditions are met, Benhart of Jugo can be summoned as an ally for the Prowling Magus, Looking Glass Knight, Giant Lord, Throne Watcher and Defender, Nashandra and Elana boss fights.
Benhart is first found near Majula, outside of the Shaded Woods. When approached by the player, he is sitting and contemplating what to do, as the way forward is blocked by the petrified Rosabeth. When Rosabeth is unpetrified by using a Fragrant Branch of Yore, he thanks the player for clearing the way and hopes to the see them again. At this point, one can learn the "Joy" gesture from him, and it will be possible to summon him as an ally before the Prowling Magus and Congregation boss fight, in Brightstone Cove Tseldora.
He can then be found next to the bonfire, past the Dragonriders, in Drangleic Castle. He remarks on the discord of the land, before changing locations. He can then be summoned to assist with the Looking Glass Knight encounter.
Next, he will move to the ramparts, past The Pursuer boss fight area, in the Forest of Fallen Giants. He will state that he will assist the player in any challenge. He will then remark on the lineage of his weapon and its apparent hidden potential.
If the Ashen Mist Heart is possessed, he can be found in the Memory of Orro near his position on the ramparts. He can be summoned to fight the Giant Lord.
Benhart drops the Bluemoon Greatsword upon death. If his sword is taken to Maughlin the Armorer, he will note that the sword is a fake; the true sword being the Moonlight Greatsword.
Character Information
Edit
Health and Souls
Edit
Health
Souls
NG
NG+
NG
NG+
???
???
2,000
4,000
Click to see Dialogue (Contains Spoilers)
| | |
| --- | --- |
| Encounter in the entrance to the Shaded Woods | Have you business with me? The way yonder's all blocked up you see. By this god-awful statue. Heavens above. Who thought it a good idea to put it there! Ohhhh, I'm in quite the pickle now. See that statue? Gives me the willies. Stare at it for long enough, it starts to look alive. Ach, It just does nae seem quite right. There are no craftsmen round these parts. Hey, you don't think a real-life person was turned to stone, do you? |
| After clearing the path to the Shaded Woods | What?! Clearing the way was your doing, was it? Haah, didn't think you had it in yer pal. No no no. That's not like it sounds, you know! It was a pleasant surprise, that's all. Name's Benhart. Thanks to you, I can resume my journey. If we share the same path, I'm sure that we are gonna meet again. I'll repay my debt to you in battle. And I swear it by my sword. The road ahead's gonna be long, but I'm here to help. Gah hah hah hah hah! I am in yer debt. It's a true man who honours his debts. And I'll see mine paid. I swear it, by my ancient sword. |
| Encounter in Drangleic Castle | Ho! Well met, friend. Good to see you well. Yes, hehh hehh, very good indeed. I journeyed from the distant east to perfect my swordsmanship. Legend has it that powerful beings slumber in this land. This sword, it's been in my family for generations. And only a real man can wield it true. I may face any manner of man or beast, but none shall be a match for my sword. Heh heh heh heh... This land is a right mess, eh? King's gone, and the people have a mad glint in their eyes. The land itself is overrun by terrible beasts. No better place to test my sword, ey? Heh heh heh heh... |
| Encounter in Forest of the Fallen Giants | Well, we meet again! What you doing here? Who'dve thought we'd meet in a place like this. Fate just won't let us stay apart, will she? Gah hah hah hah hah hah! See the old sword's caught your attention? Well, you've a good eye, then. Ah, it's been in my family for generations. They say it is crafted with moonlight, and we all know what that means, it wards off evil. And I would nae trade her for all the riches in the world. They say that no man has ever teased oot the sword's true power. But in the right hands... Heh heh heh heh heh heh... I see you've taken a liking to the sword. Well, I applaud you, for you've a sharp eye. But this is one sword pal that I will nae be giving up. If you still insist on having it... Then you will have to pry it from my cold hands! Gah hah hah hah hah hah! I've a great debt to you. And I'll never forget it. I, Benhart, swear by my honour, to aid you in your darkest hour! So nae problem pal. |
| Encounter in Memory of Orro | Oh! Look at you! Old friend! I see yer travels weigh upon you yet. Just remember, I'm always ready to help. My homeland is in the far east. A kingdom of honourable fighting men. And this sword yet awaits a true man to wield it. I know how swords think, you see! Gah hah hah hah! |
| Giving equipment to the player | We have outwitted death a good many times. Huh huh, my dear friend, take these. |
| When attacked but not hostile | Ooph! / What in bloody...! / Enough with that! |
| When attacked and hostile | Very well. I, Benhart, will be honoured to chop you to pieces. |
| When killing the player | You knew this would happen... |
| When re-encountered after becoming hostile | You're a sorry waste of life... |
| When attacked and health is under 50% | Hey! How dare you! |
| Death | What's done... urgh... Is done... |
Achievements/Trophies
Edit
To get this Achievement/Trophy, the player must summon Benhart and have him survive a minimum of three boss fights. He can be summoned for the following boss fights:
Players can also use a Bonfire Ascetic to respawn a boss and then summon Benhart again. After defeating at least three bosses alongside him, Benhart will thank the player and give them his equipment in the Memory of Orro.
If killed where he is first found in Majula, his gravestone will appear in the same spot.