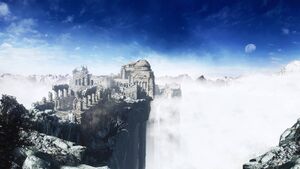 Archdragon Peak is a hidden, optional location in Dark Souls III.
Description
Edit
Archdragon Peak is an optional location that can be accessed by performing the "Path of the Dragon" gesture near the meditating dragon statue in the Irithyll Dungeon.
Archdragon Peak, as its name implies, is populated by Man Serpents, Rock Lizards, and Ancient Wyverns. It was seemingly built as a shrine to worship the Ancient Dragons by their descendants, the Man Serpents.
Contrary to what its name implies, Archdragon Peak does not contain any dragons, as those died long ago at the hands of the first Lords. The only dragon seemingly alive is the King of the Storm, the Nameless King's mount and companion.
Archdragon Peak also overlooks on the body of an ancient dragon. The body can be seen clearly on the peak on the opposite side of the great bell.
The main boss of the area is The Nameless King.
Adjacent locations
Edit
Characters
Edit
Respawning
Edit
Non-respawning
Edit
References
Edit
Community content is available under
CC-BY-SA
unless otherwise noted.