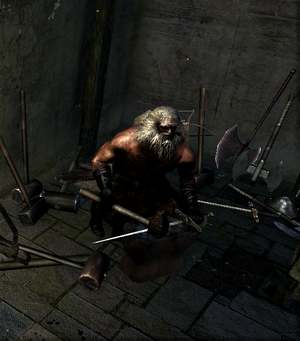 For the Dark Souls III character, see Blacksmith Andre.
"Well, you must be a new arrival. I'm Andre of Astora. If you require smithing, speak to me."
— Andre of Astora
Andre of Astora is a character in Dark Souls. He is a blacksmith that will likely prove invaluable to the player throughout the game. Andre is voiced by Sean Barrett, who also voiced Ingward and Petrus of Thorolund.
Andre of Astora is located directly below the bonfire in the Undead Parish, between Darkroot Garden and Sen's Fortress.
Often the first blacksmith new players come across, Andre of Astora can be a welcome sight. Andre of Astora is the only blacksmith that can ascend weapons down the Standard path from +5 to +6 and from +10 to +11. He is also the only blacksmith that can ascend weapons down the Raw, Divine and Occult paths.
He also sells some basic upgrade materials, as well as many weapons (some of which are unique to him). Finally, he sells the Crest of Artorias, which is required to open the door to Darkroot Forest, a more dangerous section of Darkroot Garden.
In Dark Souls III, he acts as the blacksmith in Firelink Shrine. At the beginning he is unable to infuse weapons without the correspondent coals found through the game to expand his services. Once the player has found a coal, returning it to him will unlock new infusion options.
Andre is from Astora; however, little else is known about him but his dialogue suggests that he was betrayed by someone some time ago, although he never elaborates on this. He is also acquainted with the Giant Blacksmith, as evidenced when he notices the player holding the Giant's Coal.
Despite what common sense might dictate, Andre does not use his hammer to fight, preferring to simply use his bare hands. This certainly does not mean that he is a pushover, however; his heavier punches can knock players off their feet, while his jabs are fast and can quickly deal a lot of damage. Andre has a roster of moves unique to him, including a drop kick that has heavy knockback and deals high damage. He also sports unusually high health for a character of his stature, so it may take a while to wear him down.
Character Information
Edit
Health and Souls
Edit
Health
Souls
NG
NG+
NG
NG+
1,065
2,664
1,000
5,000
Physical Defenses
Elemental Defenses
Resistances
110
110
83
110
83
77
83
D
D
D
These stats are sourced from FuturePress's Official Dark Souls Strategy Guide.
Click to see Dialogue (Contains Spoilers)
| | |
| --- | --- |
| Introduction | Well, you must be a new arrival. I'm Andre of Astora. If you require smithing, speak to me. |
| Farewell | I'll be seeing you then. Be careful out there. |
| Farewell (after buying) | Don't get yourself killed, neither of us wants to see you go Hollow. |
| Greeting | Well, hello again. You seem to be doing all right. Need anything forged? |
| Talk x1 | Most weapons and armor are mighty sturdy indeed. But every hunk of metal has its breaking point. If you notice durability running low, it's time to repair. You can ask a blacksmith like meself, or do it on your own with a grindstone. The nice thing about weapons...they never betray you. So pay them a little respect, eh? |
| Talk x2 | There are two types of weapon reinforcing. There's reinforcement, and there's ascension. Reinforcement is simple. It strengthens the weapon and nothing more. A simple task for any blacksmith. Hell, you could even do it yourself with a smithbox. But ascension is a finer art. It alters a weapon properties. Ascension is the territory of we blacksmiths; a smithbox just won't do the trick. Start out with reinforcement. When that loses it's charm you can consider ascension. As you've noticed, this land is flush with the mad and wicked. You won't make it through the night without employing my services. Hah hah hah! |
| Talk x3 | You can forge armour just like you do weapons. Forging armour is even easier than forging weapons. Whether you forge armor or weapons first? Well that's up to you. But nobody wants to see you go Hollow. So, whatever you do, you'd better do it well. Hah hah hah! |
| Talk x4 | This is the old church. It was abandoned in favour of the church that you passed through. There are paths leading from here to two forbidden planes: Sen's Fortress, and Darkroot Garden. They attract all sorts of lunatics, no-one as cultured as yourself. It's fine to be Undead, but keep a level head, eh? Hah hah hah! |
| Talk x5 | Sen's Fortress is an old proving ground built by the ancient gods. It is the only route to the great Anor Londo. Of course, most fools can't even find their way into that fortified deathtrap. But they won't stop trying! Take that bumbling Sir Onion... Hah hah hah! |
| Talk x6 | I know little of the Darkroot Garden. Although, I've heard rumours of a divine blacksmith who resides there. Those who get stumped in the Catacombs seek him for divine weapons. |
| Talk x7 (after retrieving the Divine Ember) | Oh, yes, and one more thing about the Darkroot Garden. It is said to house the grave of Sir Artorias the Abysswalker. Only, of those who ventured into the forest, none has returned. |
| Large Ember | Ahh, why, that's a fine ember you have there. I could smith some mighty weapons with one of those. Why not lend it to me? |
| Very Large Ember | Well, I'll be! That's a brilliant ember you've got there! For all my years in the trade, that might be the finest! How's about... you leave that ember with me? I'm just an old smith. I'd give my left arm for a gem like that. |
| Divine Ember | My, that's a rare ember you have there. I've seen one of those before... It's the ember of a divine blacksmith. Might you consider leaving that with me? I could produce divine weapons with a flame such as that. |
| Large Divine Ember | Oh, my, what a brilliant ember you have there. I've only heard legends of such specimens... The embers used for the secret rites of divine blacksmiths... Perhaps you could lend it to me? I've long dreamed of forging divine weapons... |
| Dark Ember | Hrm? Show me that ember of yours... Well, I've never heard of a black ember. Hmmm... How about leaving that ember with me? I find it strangely fascinating. |
| Saying "No" to giving Andre an ember | I see... 'Tis a pity... But perhaps you'd... No, no, it's quite all right... Quite all right, indeed... |
| Bringing him an ember he can't use | Hmm, that's an odd ember you have there. Ahh, I know what you're thinking. But I'm no good with those. It won't be easy, but... I'm afraid you'll have to look for someone else. |
| Attacking him | Well you've got some nerve! Coming at me like that! I'll tear you to shreds, you bloody hollow! |
| Killing him | Curses, you damn backstabber. |
Judging from Andre's accent and choice of words, it appears that he was inspired by Gaelic influences.
Andre has a west country accent, a region in the UK famous for the legend of King Arthur. While it's likely a choice of actor, the fact remains he is one of the few with a true regional English accent. Notably, the west country also has Gaelic culture and is frequently depicted/stereotyped as the countryside in media. The line by Rickert: "an old smith out in the country", also can somewhat allude to Andre.
Andre is one of the few characters that do not disintegrate when killed. This may be because he uses a unique model, or perhaps signifies he is not an Undead or monster.
It was originally intended that Andre was to be a descendant of Gwyn and that he would have a key role in the story, but this idea was scrapped.[1]
Andre is one of the few characters in Dark Souls whose mouth moves when he speaks (the others being Quelaag's Sister, Kingseeker Frampt, and Darkstalker Kaathe).
References
Edit