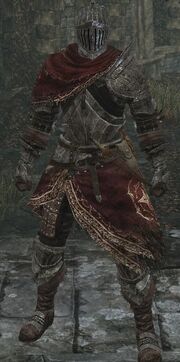 For the Dark Souls III dark spirit, see Alva, Seeker of the Spurned.
Alva the Wayfarer is a mentioned character in Dark Souls II.
Alva was once a knight who searched many lands for a cure for Saint Serreta's "sickness"[1]. Upon learning of his dedication to the saint, Zullie the Witch used all manner of tricks and deceit in an attempt to ruin Alva, but ultimately stood by his side[2]. In the end, Alva failed his mission and relinquished his knighthood[1]. His armor set can be acquired from Maughlin the Armorer once a sufficient amount of souls has been spent in his shop.
In the Scholar of the First Sin update, there is a new description of the armor worn by Alva the Wayfarer. It is said that eventually he found a new purpose in life with the aid of Zullie the Witch who once tried to ruin him.
Community content is available under
CC-BY-SA
unless otherwise noted.